Introducing Up and Coming Act
Pablo Lounge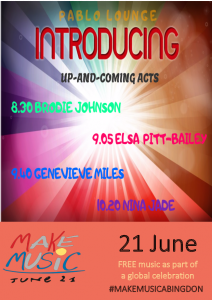 will be hosting an evening of up and coming acts.
8:30pm: Brodie Johnson
9:05: Elsa Pitt-Bailey
9:40: Genevieve Miles
10:20: Nina Jade
Upcoming Events
Address
Pablo Lounge, 1-3 Bury Street, Abingdon, OX14 3QY
Event Times
20:30–23:00
Lineup
No lineup added yet!
Please note: Events are not organised by the Make Music Day UK team unless stated otherwise.
We are not responsible for the accuracy of the information provided, please check with the event organisers to confirm details if necessary.